"Our love goes beyond bars."
-T.Q. and M.L, Mothers at Washington Corrections Center for Women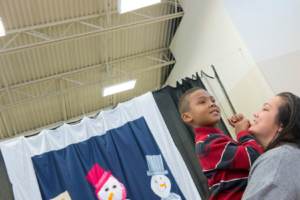 Caption: A mother parenting and serving time for a violent crime with her son at the Washington Corrections Center for Women holiday event. Photo Credit: Maria Bryk Photography.
WDA's IPP supports expanding sentencing alternatives for parents
Washington's sentencing alternatives for parents have proven to be effective in supporting successful reunification of families, however, the majority of parents in our system are not eligible for the alternatives under the current law. Many of these parents would benefit from the intensive parenting curriculum and other supports provided by the alternatives to strengthen their familial relationships and reduce their likelihood of returning to prison.
WDA is in favor of expanding Washington's sentencing alternatives so that more parents can be successfully reunified with their children in the community. Specifically, WDA is prioritizing the inclusion of non-custodial caregivers as well as more parents with violent criminal history. Additionally, WDA is advocating for the removal of categorical barriers for non-citizen parents and incarcerated parents whose children are legally free and languishing.
Please read our policy report  on this issue.
This year's efforts to expand these sentencing alternatives is underway
The Senate Human Services, Rehabilitation, and ReEntry Committee has passed an amended version of this year's proposed legislation to expand sentencing alternatives for parents in Substitute Senate Bill 5291.  The bill has been referred to Senate Ways & Means Committee.
For more information on the bill's progress click here.