"Our love goes beyond bars."
-T.Q. and M.L, Mothers at Washington Corrections Center for Women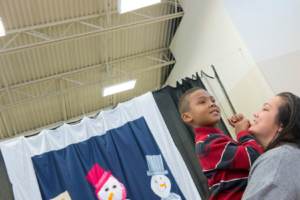 Caption: A mother parenting and serving time for a violent crime with her son at the Washington Corrections Center for Women holiday event. Photo Credit: Maria Bryk Photography.
WDA's Incarcerated Parents Project supports expanding sentencing alternatives for parents
Washington's sentencing alternatives for parents have proven to be effective in supporting successful reunification of families, however, the majority of parents in our system are not eligible for the alternatives under the current law. Many of these parents would benefit from the intensive parenting curriculum and other supports provided by the alternatives to strengthen their familial relationships and reduce their likelihood of returning to prison.
WDA is in favor of expanding Washington's sentencing alternatives so that more parents can be successfully reunified with their children in the community. Specifically, WDA is prioritizing the inclusion of non-custodial caregivers as well as more parents with violent criminal history. Additionally, WDA is advocating for the removal of categorical barriers for non-citizen parents and incarcerated parents whose children are legally free and languishing.
How to take action:
Write to your state legislator and ask them to renew their support for this effort next legislative session, by contacting them here
Or leave a voicemail message for your state Senator and Representatives, call the Legislative HOTLINE at 1-800-562-6000.
Sample message: 
I support expanding the parenting sentencing alternative and community parenting alternative. This sentencing alternative makes our communities safer.   Expanding the children and parents who can apply for the alternative will give opportunities for more vulnerable families to take part in a successful, strengths-based intensive parenting program by either staying in the community instead of going to prison, or by placing parents in the community on electronic monitoring for up to the last 12 months of their sentence, while they reintegrate safely into their families.   It not only reduces costs, it provides some of our most vulnerable families the tools necessary to reunify successfully. All families deserve the opportunity to thrive. [insert personal message].