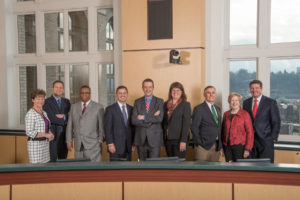 Today, in a 6-3 vote, members of the King County Council passed an immigration ordinance that prohibits use of county resources, including law enforcement and the Department of Adult and Juvenile Detention (the jail), to take any actions (not required by state and federal law) that collaborate with ICE (Immigration & Customs Enforcement), their efforts to round up and deport noncitizens. WDA played a key role in passage of the ordinance.
Some highlights of the ordinance: King County agencies and employees (including the Sheriff and the jail) shall not do any of the following unless ICE (Immigration & Customs Enforcement) provides a federal criminal warrant:
Request documents or inquire about a person's immigration or citizenship status or place of birth;
Spend time, money or other resources on facilitating civil immigration enforcement (rounding people up for deportation);
Honor ICE detainers, ICE administrative warrants provide ICE with information about a person's date of release from jail, permit transfer of people into ICE custody;
Permit ICE to access non-public areas within county facilities;
If the Jail Director grants permission for ICE to enter the jail to interview a person, they may only conduct the interview if the person consents;
Additionally:
Agencies and departments are required to review all policies, practices and forms to ensure compliance with the ordinance and develop language assistance plans.
The ordinance creates a legal defense fund.