"Our love goes beyond bars."
-T.Q. and M.L, Mothers at Washington Corrections Center for Women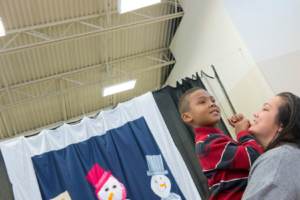 Caption: A mother parenting and serving time for a violent crime with her son at the Washington Corrections Center for Women holiday event. Photo Credit: Maria Bryk Photography. 
Say yes to keeping families together by supporting Senate Bill 5307.
SB 5307 will help expand our current alternative sentencing program to keep more parents in the community. This legislation will allow us to help more families stay together and reduce the negative affects of parent-child separation due to incarceration by:
Allowing parents to apply for consideration of the alternative regardless of crime

There is an assumption that a parent with a violent crime would be more likely to harm their children, whereas many people with violent crimes are actively parenting from prison. It makes no sense to leave them out. Also, we are not going to solve mass incarceration without supporting alternatives for people with violent crimes.
Making eligible all parents and caregivers not just primary custodians

Under a narrow reading, current law does not explicitly cover pregnant parents or parents whose partners were expecting at the time of sentencing. Nor does it explicitly include non-custodial parents with children in open adoptions, non-parental custody decrees, or guardianship. Further, low income individuals as well as LGBTQ families often have informal parenting relationships that may not be recognized or able to be proved under the current definition.
Lifting unnecessary barriers for immigrant families
How to take action:
Write a comment to legislators here:
Sample message: 
I support SB 5307, which will expand the family offender sentencing alternative and community parenting alternative. By removing eligibility barriers, this legislation will allow more families to take part in a successful diversion and early release program that not only reduces costs, but helps give some of our most vulnerable families the tools necessary to succeed. All families deserve the opportunity to thrive. [insert personal message].
Come Down to Olympia to sign in & show your support at the hearing!
SB 5307 – 2017-18
Creating alternatives to total confinement for certain qualifying offenders with minor children.
January 16, 2018 – Scheduled for public hearing in the Senate Committee on Human Services & Corrections at 1:30 PM (Subject to change).
Location: 
Senate Hearing Rm 2
J.A. Cherberg Building
Olympia, WA 98504
Come down to Olympia and sign in to Testify!
If you have a personal or professional connection to this issue and want to speak to the committee, when you sign in support, you can request to testify. It won't be guaranteed, but if there is time, you will have 2 min or so to speak!