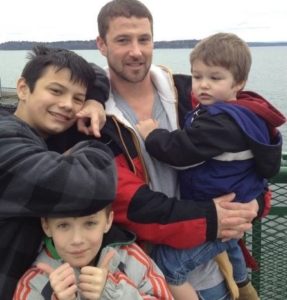 By D'Adre Cunningham, J.D.
Recently there has been a lot of media[1] attention accompanied by moral outrage about the federal zero-tolerance policy,[2] which incorporated a practice of forced child-parent separations at our southwest border. Although this practice appears to have been suspended by the current president's executive order, prospects for reunification of these children with their parents remains unclear.[3] Unfortunately, the practice of forcibly removing children from their parents, particularly from poor parents is not new;[4] it is a long-standing American practice.[5] Juvenile courts and the state laws that created them continue to use forced child-parent separation as a tool for coercing compliance, albeit under the stated aim of rehabilitating the child or rehabilitating the child's parents.[6]
As noted recently by national media attention on the treatment of migrant families, the harms caused to the children are lifelong and irreparable.[7] When last studied, over 80% of people incarcerated at Washington State Department of Corrections (DOC) were parents of minor children.[8] Every unnecessary or excessive confinement of a parent has serious and lifelong consequences for that parent and their child(ren).[9] There remains a public misconception about how these separations occur in our criminal courts and what impact the separations have on our clients and their children.[10] For example, when we incarcerate parents of minor children before they are convicted, we forcibly separate children from their parents. And, once separated, the parents may not always regain custody of their child, even if they are never found to be unfit.[11]
IPP will continue assisting indigent defenders in reducing and eliminating the impact of forced child-parent separation in their own practice. And we hope that the recent attention to this issue will serve as a reminder that how we (indigent defenders) address the parenting needs of our clients is as important to them and their children as what legal outcomes are achieved in their cases. Consider the power story-telling has had on the treatment of migrant families when advocating against cash or monetary bail conditions pretrial, or against alternatives to confinement which don't keep children with their parents.   Remember that child-parent reunifications is the #1 predictor of successful reentry.[12]   Use the social science and media attention to educate judicial officers and prosecutors about the social and emotional harms to children associated with forced separations and create more just, safer solutions in your cases.[13]    Most of all, keep fighting the good fight to keep families together.
[1]Hundreds of Immigrant Children Have Been Taken From Parents at U.S. Border, which can be found online at: https://www.nytimes.com/2018/04/20/us/immigrant-children-separation-ice.html;  ACLU webpage on civil lawsuit against Trump Administration for forcible separation of asylum seekers, which can be found online at:
https://www.aclu.org/cases/ms-l-v-ice;  At least 3 tender age shelters set up for child migrants, which can be found online at:https://apnews.com/dc0c9a5134d14862ba7c7ad9a811160e?via=newsletter&source=CSAMedition
[2] ABA's Background on Separation of Families and Prosecution of Migrants at the Southwest Border, June 8, 2018, which can be found online at: https://www.americanbar.org/content/dam/aba/administrative/immigration/Background%20on%20Separation%20of%20Families%206-19-18.authcheckdam.pdf.
[3] https://www.whitehouse.gov/presidential-actions/affording-congress-opportunity-address-family-separation/.  See also Trump Retreats on Separating Families, but Thousands May Remain Apart, which can be found online at: https://www.nytimes.com/2018/06/20/us/politics/trump-immigration-children-executive-order.html
[4]See notes on the American Indian boarding schools, which can be found online at: https://en.wikipedia.org/wiki/American_Indian_boarding_schools.  See some notes on use of the Reformatory, which can be found online at: https://en.wikipedia.org/wiki/Reformatory#cite_note-:3-16.
[5] The Long History of Child Snatching, which can be found online at: https://www.nytimes.com/2018/06/03/opinion/children-border.html.
[6] See RCW 13.40.010 (2) (Juvenile Justice Act of 1977); RCW 13.32A.010 (Family Reconciliation Act); RCW 13.34.020 (Juvenile Court Act).
[7] Separating kids from parents at the border mirrors "textbook strategy" of domestic abuse, experts say—and causes irreversible, lifelong damage, which can be found online at:
http://www.businessinsider.com/psychological-effects-of-separating-immigrant-kids-and-parents-2018-6.
[8] A survey conducted in 2006 found that 15,000 of the 18,000 people incarcerated at WA DOC were parents of minor children. Children and Families of Incarcerated Parents Advisory Committee Annual Report, Report to the Legislature and Governor (2010), 5.  This report online can be found at: https://app.leg.wa.gov/ReportsToTheLegislature/Home/GetPDF?fileName=Children%20and%20Families%20of%20Incarcerated%20Parents%202009_499fc72e-e0e8-4021-b6da-a27bb0f5e063.pdf.   Also note that IPP has requested more recent data about people admitted to WA DOC in the each of the past five years (2012-2017), and the percentage of people who are parents of minor children appear to be higher than the previous study.
[9] http://www.spokesman.com/stories/2018/jun/23/sue-lani-madsen-children-in-our-own-state-suffer-f/
[10] See the Washington Post opinion stating the opposite view, here: https://www.washingtonpost.com/news/rampage/wp/2018/06/06/no-jeff-sessions-we-dont-treat-immigrant-families-the-way-we-treat-other-criminals/?noredirect=on&utm_term=.88ff361aa667.
[11] Parental unfitness is not an absolute prerequisite for the State to be granted legal custody of the child under a dependency action. In re Dependency of Schermer, 161 Wn.2d 927, 943, 169 P.3d 452 (2007).    Parents need not actually abuse or neglect the child for the State to be granted legal custody of the child under a dependency action.   In re Welfare of Frederiksen, 25 Wn.App. 726, 733 610 P.2d 371 (1979).        Furthermore, the family law courts are authorized to grant legal custody to non-parents under circumstances that do not amount to actual detriment or parental unfitness, particularly upon agreement of the parent due to the parent's incapacity or unavailability.  RCW 26.10.030.     When seeking to terminate those orders, a formerly incarcerated parent has the burden of showing  "adequate cause" exists to have a hearing about the custody order under RCW 26.10.200, and if adequate cause exists, that a substantial change in circumstances has occurred to change or terminate the custody order.  RCW 26.10.110; RCW 26.09.260.  Release from custody may not be enough in either circumstance. In Re Custody of S.R., 183 Wn.App. 803, 334 P.3d 1190 (2014).
[12] Ryan Shanahan and Sandra Villalobos Agudelo, The Family and Recidivism, American Jails. Vera Institute of Justice: Sept-Oct 2012. http://www.vera.org/files/the-family-and-recidivism.pdf.
[13] American Families Shouldn't Be Separated, Either: https://www.bloomberg.com/view/articles/2018-06-18/family-separation-goes-beyond-trump-s-immigration-plan.